The MN Blogger Conference is a full-day educational conference for professional and hobbyist bloggers. Keynote speakers, featured guests, and panelists elevate the local blogging community by sharing industry news, best practices, and networking opportunities.
The 7th annual MN Blogger Conference was held on Saturday, October 15th at Concordia University in St Paul. We'll be back at Concordia University in 2017 and will announce the date announced soon.
Jen Jamar
Organizer
Jen (@JenJamar) is a content strategist, freelance writer, and social media manager. In addition to co-organizing the MN Blogger Conference, she is the co-owner of Get Social Events.
Professionally, you can find her at JenJamar.com. When she's not writing for clients or speaking at events, you can catch up with her on her personal blog LifeWithLevi.com.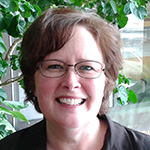 Sara Fleetham
Volunteer Coordinator
Sara (@fleetssara) has been immersed in youth and family programming in the Twin Cities for more than 20 years. She completed a Masters of Public Affairs from the Humphrey School in 2010 and is most comfortable in the middle of politics and advocacy. She is passionate about collaborative public engagement for the common good and currently working with the Woodbury Community Foundation on planning future initiatives.
Founders: MN Blogger Conference was founded by Arik Hanson (@arikhanson) and Missy Voronyak (@missyvoronyak) in 2010.
Conference logo designed by Marcus Baysinger.