The MN Blogger Conference is a full-day educational conference for professional and hobbyist bloggers. Keynote speakers, featured guests, and panelists elevate the local blogging community by sharing industry news, best practices, and networking opportunities.
The 7th annual MN Blogger Conference will be held on Saturday, October 15th at Concordia University in St Paul.
Organizers
Mykl Roventine
Mykl (@myklroventine) is the owner and creative director of Orange Jackalope Creative, a web design & development agency that specializes in creating engaging web experiences with WordPress. He is the co-owner of Get Social Events and the director of Social Media Breakfast – Minneapolis/St. Paul, the largest SMB chapter in the US, and host of their Social Media Boombox podcast. He co-founded and coordinates the activities of Ignite Minneapolis and UnSummit, and runs the local chapter of TechKaraoke Minneapolis. He speaks frequently about social media, WordPress, and typography.
Jen Jamar

Jen (@JenJamar) is a content strategist, freelance writer, and social media manager. In addition to co-organizing the MN Blogger Conference, she is the co-owner of Get Social Events.
Professionally, you can find her at JenJamar.com. When she's not writing for clients or speaking at events, you can catch up with her on her personal blog LifeWithLevi.com.
Volunteer Coordinator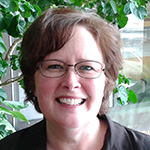 Sara Fleets
Sara (@fleetssara) has been immersed in youth and family programming in the Twin Cities for more than 20 years. She completed a Masters of Public Affairs from the Humphrey School in 2010 and is most comfortable in the middle of politics and advocacy. She is passionate about collaborative public engagement for the common good and currently working with the Woodbury Community Foundation on planning future initiatives.
Founders
Arik Hanson
Arik (@arikhanson) is principal of ACH Communications, a digital communications firm focused on serving as strategic thought partners to financial services, health care, not-for-profit and other organizations. With more than 15 years of marketing and communications experience, Arik has spent the last few years focusing on the world of digital PR and blog marketing. Arik blogs at Communications Conversations and has played a lead role in many social projects and initiatives online–both locally and nationally–including: founder–Help a PR Pro Out Day; Organizer/speaker at BlogWorld (2009, 2010); Founder of the PR Reader's Choice Blog Awards; Co-founding the B2B Voices blog; and a regular contributor to Ragan.com, PR Daily, the PR Breakfast Club and MinnPost.
Missy Berggren
Missy (@marketingmama) is the director of a new Minneapolis office for WCG, an integrated communications agency. She blogs on marketing and business at melissaberggren.com and on the rest of her life (parenting, family activities and health topics) at Marketing Mama. Named one of the top 11 Tweeps of the Twin Cities, Top Ten Titans of Twin Cities Social Media and Top 50 Women of Twitter, Missy isn't far from any online discussion and regularly appears in local media.
Conference logo designed by Marcus Baysinger.